Post by adman on Nov 5, 2017 19:14:29 GMT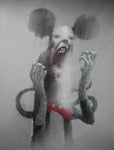 Spassky (left) Fischer (right)
Photo by Harry Benson
The 1972, World Championship. Boris Spassky of the USSR vs Bobby Fischer of the USA in a match held in Reykjavík, Iceland, that was widely publicized as a Cold War confrontation. The match attracted more worldwide interest than any chess match before or since.
The expectations on Spassky were enormous because, for the Soviets, chess was part of the political system. While Fischer was often famously critical of his home country ("Americans want to plunk in front of a TV and don't want to open a book ..."), he too carried the burden of expectation because of the political significance of the match.No American had achieved the world championship since the first champion, Wilhelm Steinitz, became a naturalized American citizen in 1888. The excitement surrounding the match was such that it was called the Match of the Century.
The first game was played on July 11, 1972. The last game (the 21st) began on August 31, was adjourned after 40 moves, and Spassky resigned the next day without resuming play. Fischer won the match 12½–8½, becoming the eleventh undisputed World Champion.
In his later years, Fischer lived in Hungary, Germany, the Philippines, Japan, and Iceland. During this time he made increasingly anti-American and antisemitic statements, despite his Jewish ancestry. He publicly expressed criticism of the U.S., stating his belief that, "Nobody has single-handedly done more for the U.S. than me. But now I'm not useful anymore, you see. The Cold War is over and now they want to wipe me out, get everything I have, put me into prison." After his U.S. passport was revoked over the Yugoslavia sanctions issue, he was detained by Japanese authorities for nine months in 2004 and 2005 under threat of deportation. In February 2005, Iceland granted him right of residence as a "stateless" alien and issued him a passport. When Japan refused to release him on that basis, Iceland's parliament voted in March 2005 to give him full citizenship. The Japanese authorities then released him to Iceland, where he lived until his death in 2008.
I know.
That Sunday evening feeling, right?