Post by dashboll on Nov 10, 2015 17:59:48 GMT
Time to bring back the dismaland memories, here's the latest Q&A, thanks Luke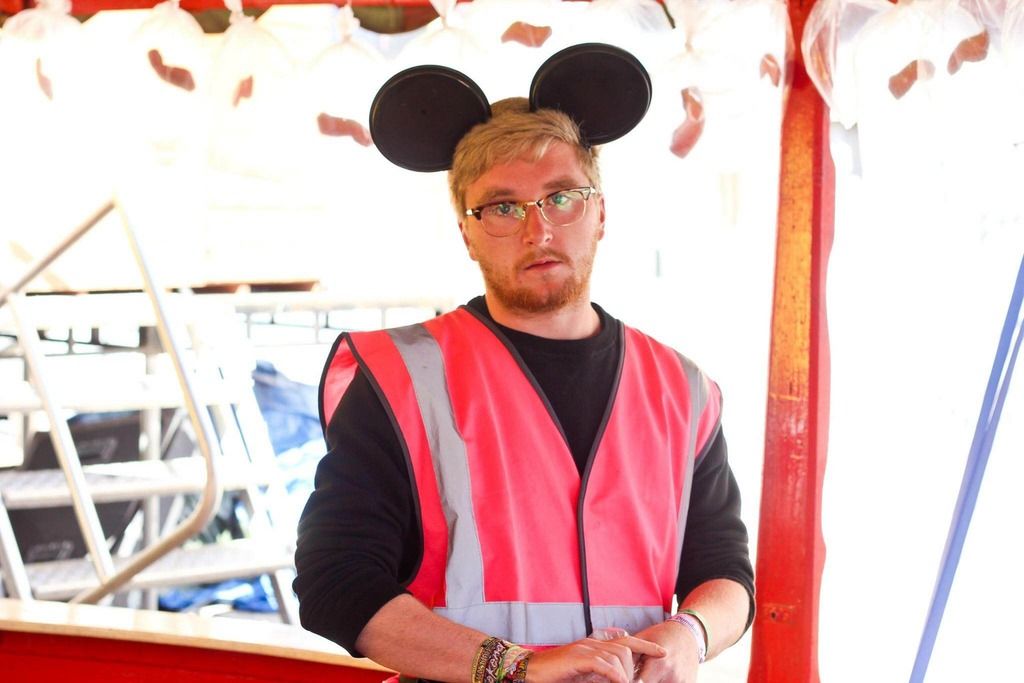 How were you first approached to be
involved with the show?
On my first night their (the Saturday of opening as a customer) I had a few people I knew who worked as dismal, even I tried to make them laugh. Two asked if I wanted to work there as they are creatives too and I said sure, why the hell not!
Or did you respond to a mysterious advert about being a film extra?
What was going through your head during the recruitment process and what was involved? (Not including the training or anything, just the process of securing the position).
For me... It was just an interview in a run down locker room filled with depressed people!
Did you have to sign a non-disclosure agreement and can you tell us about it?
Nope
Did you get to wear the same ears throughout the show or was it random each day?
They were random each day, towards the end they all got broken though misuse
Did any visitors upset you?
Yes... A few people didn't get the joke it went out of their way to insult me or worse... Touch me!
Did you upset any visitors?
We're told not too! I think I upset a child when doing a random search in air port security haha
What was your strangest/funniest experience or memory of the show?
I don't think I could pin point one... As a whole it was a complete juxtaposition to my other jobs... Being how I wasn't to be in my day job!
Do you think your Dismaland training will affect your ability to work in a normal environment?
I work in retail... Yes... Yes it has
What was your most asked question?
Can you smile
If you were scheduled to work, for example, 9'til 3,and you ended up having to work 'til 3:30, were you paid as such?
Yarp
If you could take home anything from the show, no matter how large or small, what would it be and why?
For me it'll have to be just the sound track to the whole exhibition... I miss it so!
Have you felt bad at all with abything you have said/done?
I said to a disabled person "£2 a go or £5 to just stand there and watch all day". They were in a wheel chair!
Are you a training actor?
Nope
Did you find the task/role draining at all, or was it more just tap into your natural miserable self and let go?
After a shift it seemed to take an hour or two to snap out of the role but didn't seem to have any lasting affects
Tell me you got a Diane tenner with the dismaland stamp as parting gift
sadly no
Was you the guy that.said he didn't like my.stupid face numerous times?
That would be telling
How were you appointed for the post and what was the interview process like?
Are you and the other Dismals from Weston Super Mare or was accommodation provided?
Banksy wanted to keep it local and allow the people of Weston to have this amazing job opportunity
Did you see your photo in any press or TV?
Yes!!!
Have you been an 'extra' in any other film or TV?
No
What was your favorite artwork or installation?
The unicorn! It's my spirt animal
Did any of the artworks or installations effect the way you thought about life before Dismaland?
I'm a creative and agree with everything he stands for and the messages he conveys...
Were you shocked at how many adults would mob you for a balloon with I am an imbecile written on it?
Never did that job
sad times
Did being miserable all day have any lasting effect on your mood after work?
Yep
What was the hardest scenario to not laugh or get a giggle on?
Drunk people
What was the hardest scenario to not get genuinely pissed off at?
Drunk people
Did you get to keep your Dismal pink jackets and ears?
Sadly not
What 'celebrities' are you aware of that visited?
It was always my day off...
What 'celebrities' did you actually witness in attendance?
What 'celebrity' did you hear, or in your experience, was the biggest arsehole? - please elaborate.
What 'celebrity' did you hear, or in your experience, was the nicest? - please elaborate.
do you get paid with money or art or both?
That would be telling
if they took Dismaland on the road, would you go?yessss 100%
are there any real life carnies on staff?
Do you think you van ever be happy/friendly again?
I'm always happy
were you allowed to show up to work stoned?
No idea haha
Ever seen a grown man naked?
Yes...
have you ever been in a... in a Turkish prison?
No...
Has the job of going around all day being dismaland rude affected your normal life any?
It has in my normal job... I tend to be more sarcastic
Are you still sane?
Kind of
Did you nick anything and have you / will you be selling it on eBay?
No! Why would you sell it
- Do they practice group yoga backstage?
No hahah
- What is his official job description?
Who's!
- Did they get to choice where they were placed in the park?
Daily
- Does he know all the other attendants?
Yes
- Did he know who Banksy was before Dismaland?
Big big fan!
- Which is his favourite attraction/piece of art and why?
I don't know...
- How long did he had to practice for his role?
My role! 10 mins
- Did other attendants got fired in the 5 weeks he was there? And if so why?
Yes! Not showing up to shifts! Why would you not
- Are Simon and Holly good bosses? Elaborate....
Who are they
- What did he steal from the park and why?
No
- Was he aware of the movie being made?
Big movie?
- Was Banksy there the whole 5 weeks or only on certain days?
Yes! He's met us all but we don't know who he is
- Is he tired from answering all the silly questions people of the Notbanksyforum ask him?
Yes
What will you take away from this experience?
Confidence and amazing memory's
Are you an artist yourself?
Yes
Would you do this again?
100%
Have you ever wanted to visit Calais?
?
What's the best thing you saw during the past few weeks (it doesn't have to be Dismaland related)
Some man getting naked and swimming in the gross pool.... There's a reason it's green
What's the worst thing you saw during the past few weeks (it doesn't have to be Dismaland related)
Puke..
Did your family and friends get to see you at work?
Yes! It's hard to keep a straight face
Can you still hear the music in your head?
Yes and I love it... If ou were nicer, the communists wouldn't exist
What are your plans for the future?
Be me
How much of your behavior was directed and how much was improvised?
All improvised, we got given an a4 piece of paper to reason before the shift of how to act
We're you encouraged to improvise?
Yep
Were there any supervision of your behavior?
Lots!!!!!!!