Post by prettyportal on Oct 11, 2018 17:38:54 GMT
This Friday, 12th of October, we will open the exhibition "From the Woods to the Blocks" by Roman Klonek.
Please send me a PM with your email if you would like to receive the preview (PDF) from the show.
After we have shown Roman a few times in group exhibitions, this is finally his first solo show at Pretty Portal. On one hand, the title of the exhibition refers to the technique with which Roman Klonek creates his works, namely the woodcut or woodblock print and, secondly, his exploration of urbanity.
Here is a small making of from one of the works from the current exhibition.
Roman Klonek on his exhibition:
"In the exhibition" From the woods to the blocks " at Pretty Portal, you can see how the traditional craftsmanship of woodcarving meets experimental forms of narration. The narratives are free of categorical specifications and are neither clear in terms of time nor space.
Quite comparable to a full sketchbook, if you imagine the paper would be transparent and everything "drawn" you just see hopeless gibberish and confusion. Maybe I should mention now that I love messing around and to clean up afterward.
If it comes to an unexpected coincidence of two or more ideas (which often happens in a natural way), it may well happen that these encounters cause a moment of happiness in me because of their originality.
As for the combination of these ideas, or picture elements, I like to move in the tradition of the so-called B-movies, the fact that they are an alternative to the calculable mainstream cinema, with much more risk-taking and without regard to conceptual rigor, often the key features in telling stories – the moments of surprise. "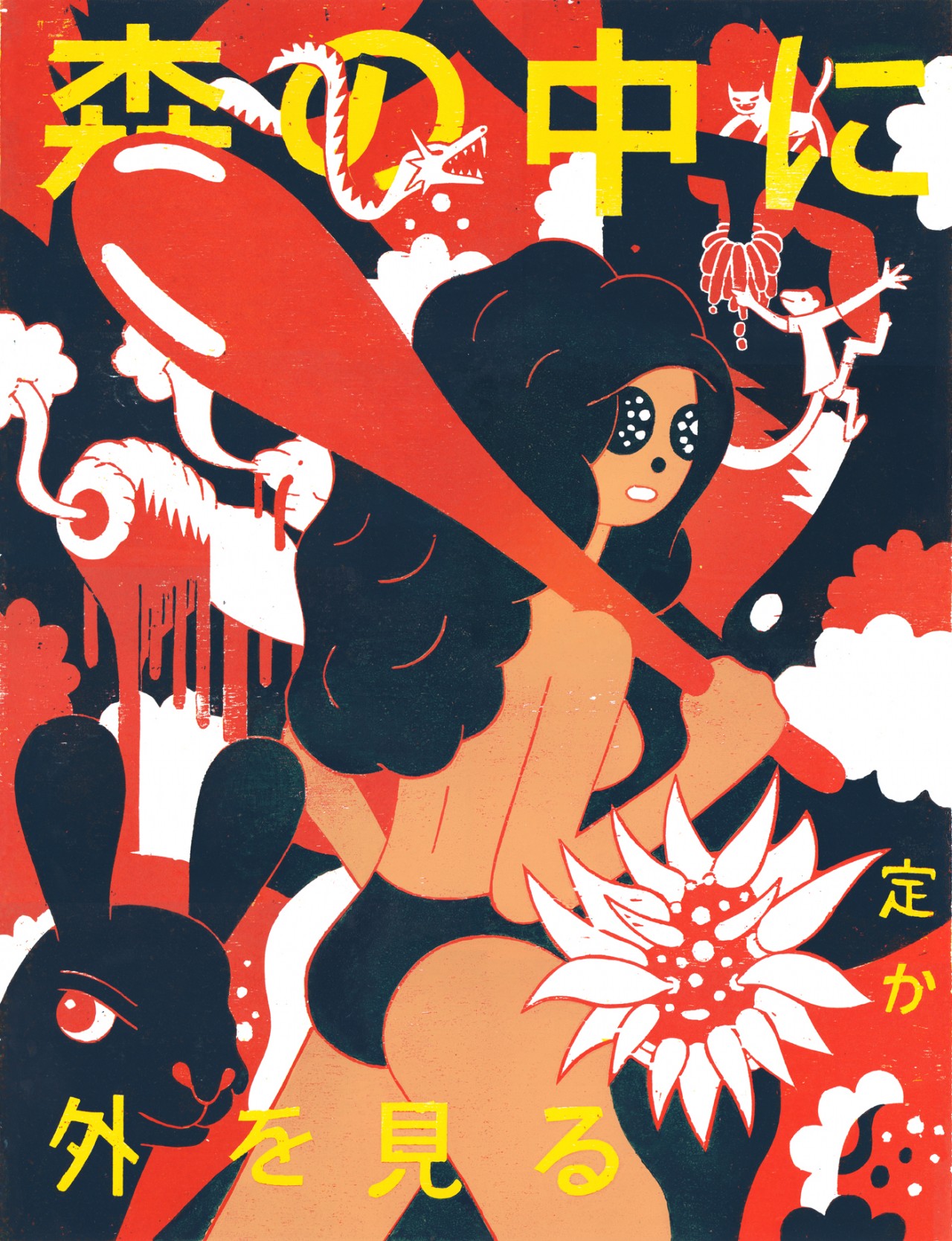 Roman Klonek, born in Kattowitz/Poland, is an internationally known representative of contemporary print art. He has a spot for old fashioned cartoons, especially east European styles.
In the 90s, he studied Arts in Duesseldorf and discovered a passion for woodcut printing. Bizarre creatures, metamorphoses of humans and animals, meet and show themselves in a pop surreal environment. Striking are typographic elements of Cyrillic and Asian characters. Roman Klonek combines propaganda, folk and pop.
From 2001 to 2008, Klonek participated in the gallery "Galerie Revolver" in Düsseldorf. He attended the festival "Pictoplasma" several times. Besides his artistic work he is a guest professor at Folkwang University of the arts in Essen and lives and works in Düsseldorf.
In the exhibition, there is a selection of woodblock prints from the artist's current creative period, as well as a screen print edition of the artwork "Souta Mouse"
From the woods to the blocks "
Opening Reception:
Friday, 12. October 7- 10 pm
Exhibition:
15. October – 16. November